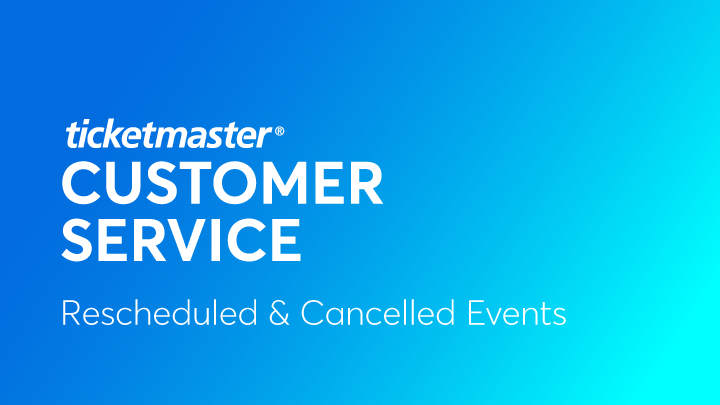 Our Contact Centre operating hours are 9 am to 5 pm, Monday to Sunday. Please do not send in multiple requests, doing so will slow down our response times. Instead, try our Social Media team or check our help pages if you are in need of any updates, these will be updated regularly. We are currently experiencing a high volume of Rescheduled and Cancelled events. Please be assured that our staff is doing everything that they can to answer you. If your event isn't listed below, please do not contact us asking for information. When/if your event is affected, you will be contacted by email and/or SMS and the information will be posted here. This page will be updated as soon as we hear officially from event partners. Thank you for your patience and understanding during this trying time.

For any events that have been cancelled or rescheduled you should be able to find more details in our helpdesk. If you can't find what you're looking for, try searching the name of your event in the search bar above. There may be instances, especially with postponed shows, where the new date has not yet been confirmed by the Promoters. For more information, please keep an eye on this page, which will be updated with all the latest information.

My event's been rescheduled – will I get new tickets?

If tickets have already been sent out when the event's been rescheduled, they'll usually be valid for the new date. There's sometimes the odd occasion where the original tickets won't be accepted, but we'll always be sure to let you know if that's the case. We will make contact with all of our customers to advise what they'll need to do. 

Why isn't my event listed here? I'm sure I've heard it was cancelled.

We can only announce a change once it's been confirmed to us by the Venue or Promoter. There's always quite a lot going on behind the scenes when an event is changed, so if you've seen something on the venue's website, the band's Facebook page or anywhere else but it's not posted here yet, don't worry. It might be that we're just finalising details, but we'll let you know as soon as we have the details confirmed. Check the list below for any changes to your event.

If you still require further assistance, please don't hesitate to Submit a Request via the button at the bottom of the page, and one of our Customer Support representatives will provide an answer as soon as possible.


| Event Name | City | Venue | Original Date | Status | New Date | New Venue |
| --- | --- | --- | --- | --- | --- | --- |
| Beth Orton | Auckland | Powerstation | 29/11/2024 | Rescheduled | 20/04/2024 | N/A |
| Beth Orton | Wellington | St James Theatre | 30/11/2024 | Rescheduled | 21/04/2024 | N/A |
| blink-182 | Auckland | Spark Arena | 1/03/2024 | Rescheduled | 2/03/2024 | N/A |
| Fletcher | Auckland | Auckland Town Hall | 29/11/2023 | Rescheduled | 28/07/2024 | N/A |
| Isai Rajangam | Auckland | The Trusts Arena | 3/03/2023 | Postponed | Awaiting New Date | N/A |
| Moscow Ballet - Sleeping Beauty | Auckland | Kiri Te Kanawa Theatre | 9/05/2023 | Postponed | Awaiting New Date | N/A |
| The Nutcracker & Don Quixote | Auckland | Bruce Mason Centre | 29/10/2023 | Postponed | Awaiting New Date | N/A |
| The Nutcracker & Don Quixote | Auckland | Kiri Te Kanawa Theatre | 31/10/2023 | Postponed | Awaiting New Date | N/A |
| The Weeknd | Auckland | Eden Park | 8/12/2023 | Postponed | Awaiting New Date | N/A |
| The Weeknd | Auckland | Eden Park | 9/12/2023 | Postponed | Awaiting New Date | N/A |
| Ant Middleton | Auckland | Auckland Town Hall | 30/01/2024 | Cancelled | N/A | N/A |
| Jessica Mauboy | Auckland | Auckland Town Hall | 11/01/2024 | Cancelled | N/A | N/A |